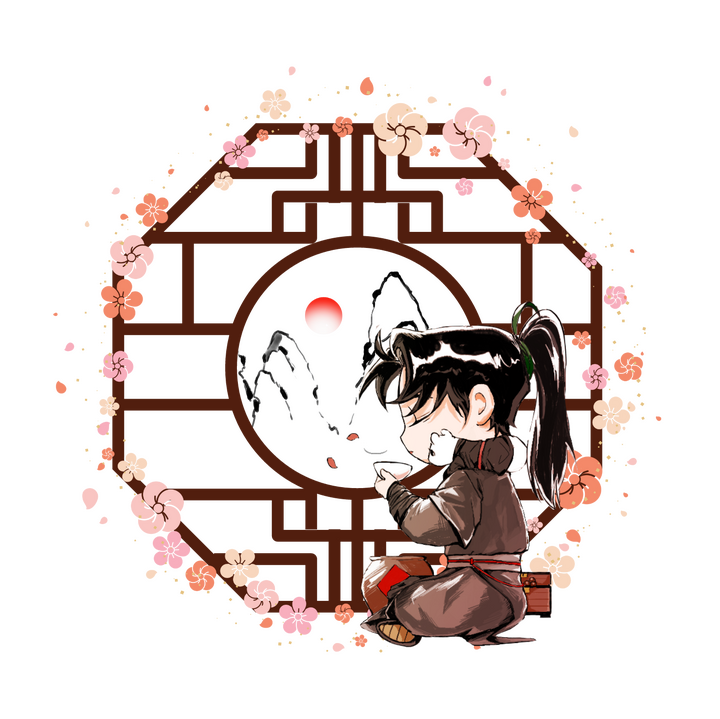 The Seasons of Mount Hua
Hwasan Gwihan 화산귀환 Zine
The Seasons of Mount Hua is a zine centered around the Plum Blossom Sect's daily life on Mount Hua. We aim to feature both Guhwasan (100 years ago, in the first timeline) and Hyeonwasan (current timeline being followed) as the sect members go about their year.
Frequently Asked Questions
| Question | Answer |
| --- | --- |
| What is a fan zine? | A fan zine is a compilation of fan works of the creative nature that are compiled and published in a digital or physical booklet. |
| Who can apply? | Artists and writers 16 years old and above! |
| What are the guidelines for applications? | See guidelines. |
| Will this zine be monetized/sold? | No, it will remain a free digital zine. |
| Is this project SFW? | Yes, this project is suitable for work. |
| Will this zine include spoilers? | We also expect that due to our inclusion of Guhwasan (previous timeline from 100 years back) that there will be major spoilers, the presentation and extent of which is solely up to our contributors. Please participate/download our final product with this in mind! |
| How many contributors are you planning to include? | We are considering to include 5 writers, 35 page artists, and 5 merch artists for a total of 45 contributors. |
| Will you have guest contributors? | Yes we will! Our guest contributors count to the 45 total contributors, and will be announced as applications are ongoing. |
Schedule
| Event | Dates |
| --- | --- |
| Launch | March 3 |
| Interest Check | March 10-31 |
| Applications | Apr 10-30 |
| Emails Sent | May 7 |
| Join server by | May 15 |
| Pitches due | May 25 |
| Check in 1 | June 25 |
| Check in 2 | July 21 |
| Check in 3 | Aug 12 |
| Submission | Aug 27 |
| Formatting | Sept-Oct |
| Release | Oct-Nov |
Mods
Hwasan Gwihan 화산귀환 Zine
Role: Social and Layout mod
Previous Experience: Family Record (Head Mod), Four Seasons: A Huntlow Zine (Head Mod, Social Media, Graphics, Layout Intern), Golden Garden: A Huntlow Gardening Guide (Co-head mod, Social, Layout), AlCale Week (head mod), Huntlow Week (Social Mod), LCF Secret Santa (head mod), Huntlow Hearts Exchange (co-head mod) and more
Socials: @maxirueee @maxidrawsart
Bio/Intro: Cheongmyeong will beat me up if I can't make a zine for him.
Favorite Character: Cheongmyeong, Baeka, Baek Cheon & Hyun Young!
Role: Social Media Intern
Previous Experience: none
Socials: twt @mewwiiee
Bio/Intro: a step closer to my beloved Dang Soso ❤️
Favorite Character: Dang Soso, Cheong Myeong, Baek Cheon, Yu Iseol
Role: Art mod
Previous Experience: None
Socials: @jnz0114
Bio/Intro: my bbg Baekcheon
Favorite Character: Baekcheon
Role: Beta mod
Previous Experience: LCF Zine
Socials: @polopoka
Bio/Intro: Helloo!!!! I'm going to be in charge of the proofreading of the fanfics in the zine so i any problems or issues faced by writing I'll be glad to be of service!!
Favorite Character: I haven't read the series lol
Hwasan Gwihan 화산귀환 Zine
Guidelines
Page/Merch Artists
- Submit 3 of your best samples which will reflect what render style you will contribute to the zine, along with a portfolio featuring at least 10 pieces.
- At least one piece must have complicated background (not only gradients/ simple patterns).
- Anatomical knowledge and quality consistency will be judged.
- Art style will not affect rating.
- Only include completed works in your portfolio (no sketches/wips).
- We highly prefer for your portfolios to be submitted as a Google Drive folder, but we welcome other hosting platforms provided they are free of clutter.Writers
- Submit 3 of your best samples, along with a portfolio.
- Each sample should be no longer than 3K words each. Excerpts are allowed, however at least one sample must be a completed piece.
- Your portfolio must include at least 5 pieces. At least one sample must be a completed piece.
- Portfolios allowed include AO3 and Google Drive compilationsGeneral Guidelines
- Hwagwi samples are encouraged but not required.
- All samples must be original. (Manhwa page redraws and colorings are not allowed.)
- No explicit sexual/NSFW submissions in portfolio or samples. We have a minor on the mod team and will enforce that this zine is R16 friendly.
- Please note any content or trigger warnings.
- Make sure your links are accessible! The mod team will not chase after submissions with faulty links. Tip: check if your google drive links are working by opening them in incognito.Expectations upon acceptance
When accepted, the contributors are expected to submit the following according to their roles by the zine's internal deadline.
Artists: At least 1 illustration that fits the zine guidelines.
Writers: 1.5K-2K word fic
Merch Artists: Printables/ Icons/ Phone wallpaper/ Desktop Wallpaper/ other digital merch items. Merch artists are also allowed to draw page art for the main zine.